Blog entry of 23 Jan 2023
Why Las Vegas F1 is attracting high-rollers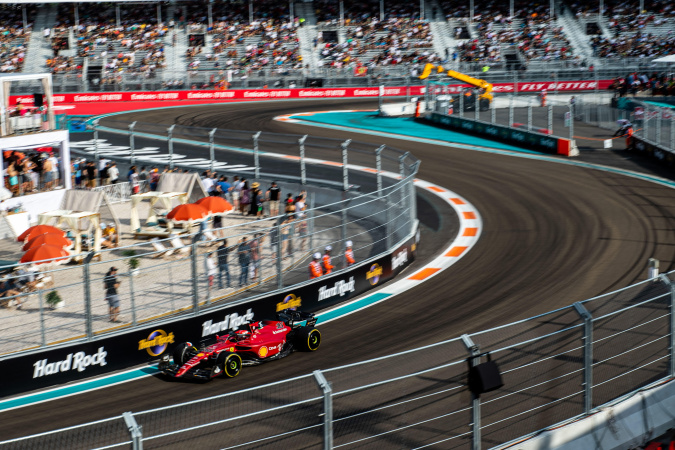 Foto: © Ferrari S.p.A.
After over 40 years waiting for the return of a Las Vegas F1 GP, November's long weekend will arrive in style at Sin City in November.

Money talks and the infamous city in the Nevada desert is set to surpass even the great Monaco F1 race in terms of glitz, glamour and money when the world's best drivers are tested to the limit on a 3.8-mile temporary track.

There are a plethora of factors behind the failure of the Caesars Palace Grands Prix in 1981 and 1982, which crashed and burned. Competing on a temporary track in the car park of the Caesars Palace hotel and sweltering daytime heat were two main reasons.

It's back, bigger and bolder this year with mega hype about the highly recognisable Las Vega Strip. Money certainly was no object when the launch party took place last November, exactly one year ahead of the F1 meeting.

However, a mammoth target of half-a-billion dollars in revenue has been set by F1 bosses for the rebirth of the Las Vegas GP.

The organisers need to make a quick profit as F1 owners Liberty Media spent US$240 million (£197m) in acquiring the 39 acres of land for the venue and surrounding facilities, plus the construction of the pit and the brand new circuit should cost around the same amount.

The grand prix weekend (16-18 November) has been shifted forward one day compared to the traditional format. The first two practice sessions are due to take place on Thursday, with the third practice session and qualifying on Friday.

Saturday's Las Vegas GP will be a night race, starting at 10pm local time. A late start time will give lower temperatures, which should make the event less gruelling for drivers and teams than previous races in Sin City.

Top speeds are anticipated to hit 212mph as the elite drivers will try to steer their slick mean machines past the neon lights of such upmarket casino resorts as Bellagio, Caesars Palace, the MSG Sphere and The Venetian Resort.

The 50-lap battle is scheduled to take place over a 14-turn circuit that features three straights, a high-speed cornering sequence and a single chicane section. However, the night time schedule means that Europeans will only be able to follow live action during the early hours (6am GMT).

Interest in the event, which has become the third US F1 race in 2023, has exploded thanks to the gritty behind-the-scenes Netflix docudrama Drive to Survive.

Austin in Texas has played host to the US F1 GP since 2012. Miami and its fake marina will be on the calendar in May, which sold out within 24 hours.

Yet it is Las Vegas that's simply the jewel in the crown for the sport, elevating itself about the Monaco GP. If you fancy a flutter on any of the F1 races in 2023 then it's worth making use of bonus offers, such as this Palmerbet bonus code that's popular among Aussies.

Even before the starting flag is waved, everything is hotting up. Seated tickets for the Las Vegas race swiftly sold out despite high prices, with casino hotels now cashing in by selling packages as high as US$5m.

Caesars Palace Las Vegas Hotel and Casino on the pit, straight down the road, is offering an astonishing price tag of $5m (£4.1m) Emperor Package for their F1 weekend.

Caesars' incredible package includes five nights in a three-bedroom villa with 24-hour butler service, plus a terrace to host 75 people to watch the track action. The lavish luxury does not end there, as the package also boasts something special for a dozen people with dinner from a leading celebrity chef, Paddock Club tickets as well as an invitation to a performance by US-based British singer Adele.

Casinos, who successfully collaborated on bringing F1 back to Las Vegas, are busy playing the promotion game with off-race packages to make this year's grand prix a must-attend event.

The Wynn Las Vegas, in conjunction with F1, is pulling out the stops for an enviable four-night stay for up to six people in a three-bedroom duplex that includes such luxuries as caviar and Champagne for a cool price tag of US$1m.

Casino hotels rolled the dice initially to make a plethora of purchases of ticket blocks, and repackage them into VIP entertainment experiences. This was always going to be their safe gamble and has already paid high dividends.

The most expensive fan experience on this year's F1 24-race calendar ranges from MGM Resorts' four-day packages from US$100,000, which seem a bargain price that dwarfs in comparison with Wynn's US$1m.
Admission tickets, which started as low as US$500 for a three-day pass but cost up to US$10,000, were soon snapped up by eager fans and casino resorts.

The skyrocketing prices of Las Vegas Strip hotel rooms for the F1 race is not putting off genuine enthusiasts, while wealthy fans will happily splash the cash and can always win back some of their money at the casino.

The reintroduction of the Las Vegas race is the real deal as far as high-rollers are concerned, and should be more exciting overall than the 2022 F1 season. Major landmark resorts along Las Vegas Boulevard are banking on wealthy visitors trying their luck during the race weekend.

From Caesars, MGM Resorts to Resorts World and more then the circuit sweeping past famous hotels and casinos in Las Vegas shows all the promise of being a rip-roaring experience.